Almost all the books listed at Christ-Centered Books are also listed at Amazon. The most important consideration in your fundraising is the amount of royalties your ministry or the ministry of your choice will receive.
The royalties at Christ-Centered Books are significantly higher than through Amazon (because you cut out the middleman).
Overview of the royalties
(for public domain works)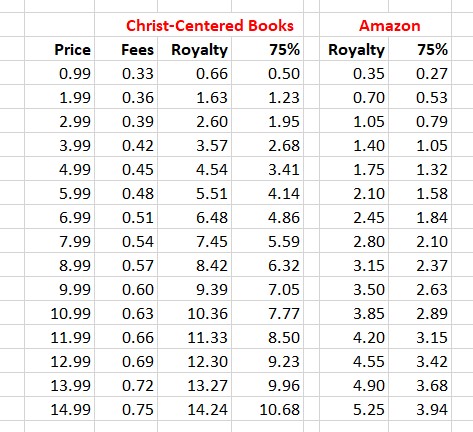 As you can see, it is significantly higher even though you purchase the exact same files.
Furthermore, Amazon pays the royalty only after two full months, while Christ-Centered Books does so after about one week, which means a much greater and faster payment to your ministry.
Click here to contact me and let's review all your fundraising options (no strings attached).
In Christ Alone,
Mr. Jan Blonk
P.S. Every approved ministry will receive this official statement, stating the promotional days and the royalties that the ministry will receive.